UNITE HERE is proud to be a diverse union: we are mostly women and people of color, and hail from over 200 different countries. As a union, we are committed to helping working people of all backgrounds achieve greater social and economic equality through good jobs covered by union contracts. We also know that for many individuals to achieve true freedom and opportunity in their lives, our fight for justice and equity must go beyond the workplace.
At UNITE HERE, we believe building the union is a racial justice project. All people of color, all working people do better when we are in unions. When Black, brown, Asian, and indigenous workers belong to unions, there is less racial inequality. There is less income inequality. There is greater opportunity for advancement and training. We believe that for all working people – one job should be enough—enough to pay the rent, go to the doctor and retire with dignity. We believe that creating more good union jobs and growing our movement is at the core of building strong families, strong communities, and bringing greater equality to our society.
Our Core Value: Solidarity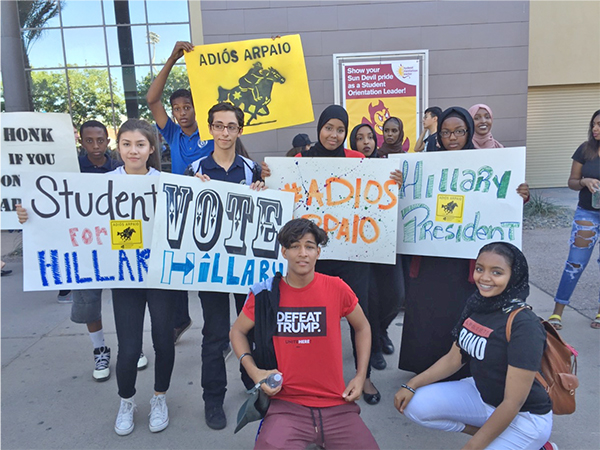 We hold solidarity as a core value – one that binds us through thick and thin. We can't choose who we work with, but we can decide whether we will allow our employers and our society more broadly to divide us from each other and conquer us in the process. UNITE HERE was the first union in North America to formally ratify a resolution explicitly stating our support for LGBTQ workers. Our union led the labor movement to reverse its isolationist position on immigration, organizing the Immigrant Worker Freedom Ride in 2003, which honored the legacy of the Civil Rights Movement, and called for a bold immigration reform in the face of post-9/11 anti-immigrant bigotry and xenophobia. In 2016, we organized over 1,000 high school volunteers – mostly Arab-American and Latinx – who mobilized tens of thousands of new voters to kick the most racist sheriff in America, Joe Arpaio, out of office.
These are just a few highlights from our many decades of anti-racist, anti-discrimination activism, rooted in principles of solidarity and the desire for freedom and justice for all working people. But solidarity is exercised everyday through the power of our union on the shop floor and in our communities, when we stand with one another – despite our differences – to take on the powers that be.
The Power of a Union Contract
By sticking together, the members of UNITE HERE have fought for and won protections at work against discrimination and unsafe working conditions, including sexual harassment—all enforceable legally through the power of a union contract. Union contracts have helped workers secure the right to due process on the job, regardless of age, gender, religion, race, ethnicity, country of national origin, primary language, sexual orientation or gender presentation. Even before the June 2020 Supreme Court ruling to protect LGBTQ workers from job discrimination, over 200,000 UNITE HERE members had contracts that prohibited their employer from discriminating based on their sexual orientation, gender identity, or gender expression—even in the Deep South and other conservative jurisdictions where no legal protections existed.
Access to Good Jobs
Union contracts are also vehicles for opportunity—tools we have used to secure create job training programs, wage equity across gender and race, and access to jobs for Black workers in particular. We have partnered with the hospitality industry in places like Hawaii, Toronto, Las Vegas, Chicago, Los Angeles, and Miami to create training academies that provide area residents with job training to secure work in the hospitality industry and advance.
In a number of cities across the U.S., we've also won African-American hiring programs, combatting the industry's decades-long practice of disinvesting in Black workers and Black communities. Our union has won back positions for Black workers in the hospitality industry and partnered directly with Black communities to get people back to work. In New Haven, a community long plagued by town-gown tensions around Yale University, UNITE HERE has won a local jobs program, guaranteeing good union jobs placements for hundreds of residents in New Haven's working-class, Black and immigrant neighborhoods.
Policy and Political Work
Our work toward greater social equity and justice goes beyond getting strong union contracts. For decades, our Union has defined itself as a leader on immigration. Past and present, immigrant workers have been at the center of our Union's efforts to end poverty and change lives.  Our union has led the labor movement to call for immigration reform, including a pathway to citizenship for the more than 11 million undocumented immigrants in the U.S., Dreamers, and most recently permanent protections for immigrants with Temporary Protected Status, which includes many people from Haiti, Honduras, El Salvador and other countries families have fled seeking refuge from natural disasters or political upheaval.
We have lobbied for protections at work for union and non-union workers alike, raising the minimum wage, securing groundbreaking legislation on sexual harassment in places like Seattle, Illinois, and New Jersey, and more.
Beyond legislation, we've built a robust political program to build worker power and turn key battleground states blue. 2020 has been a year that has laid bare the gross inequity and racism that permeate every facet of our society and have been made even more deadly by the COVID-19 pandemic. With our Take Back 2020 campaign in Nevada, Arizona, Florida, and beyond, we dedicated ourselves to doing whatever it took to return the power of the White House to the people. But Take Back 2020 wasn't just about taking Trump out of office; it was about taking back our power and taking back our future. It's about taking back our lives.
Investing in Leadership
We have also challenged ourselves to invest in the leadership of our members, and in the leadership of people of color, to make real room for people other than white men to lead.
At our 2019 International Union Convention we swore in the most diverse General Executive Board in our union's history, and we are committed to constantly pushing ourselves further to build leadership across our Union that reflects the strength and diversity of our membership.  Our Immigration, Civil Rights and Diversity department, currently led by Executive Vice President Enrique Fernandez, has worked in partnership with UNITE HERE affiliates and progressive allies to advocate for policy changes and economic opportunities to uplift communities of color.
Independently, Black leaders from across UNITE HERE formed the Black Leadership Group in the wake of protests sparked in Ferguson, MO in 2013. In recent months, members of the Black Leadership Group have made public calls to "fight police brutality and anti-black violence… as we continue to fight for economic justice."
In recent years, UNITE HERE has also launched The LEAD Project in collaboration with educators at San Francisco State University. The program offers union leaders who haven't had easy access to training in formal business English the opportunity to develop skills needed to advance as more confident and effective members of our union. Participants develop confidence, expand communication skills, and grow their networks, allowing UNITE HERE to move closer to the vision of leadership we most value and need: diverse, powerful, and representative of our membership in every way.